November 10, 2016
We look forward to welcoming you on the Enzybel /BSC /Enzybel Asia Pacific Booth at HI NI Frankfurt from November 29 till December 2016
Join the world's leading health and natural food ingredients event!
We will be glad to welcome you and show you our plant derived enzymes: papain, bromelain & ficin.
Moreover, this year we are hosting our sister company Sotecna specialized in 100% pure & natural essential oils and snail extracts for food, nutraceuticals and cosmetics.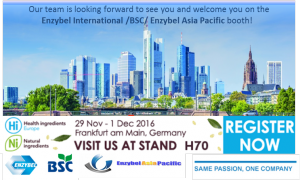 More info